Exhibition
Pouring Tea Until It Is All Evaporated
Jingwei Bu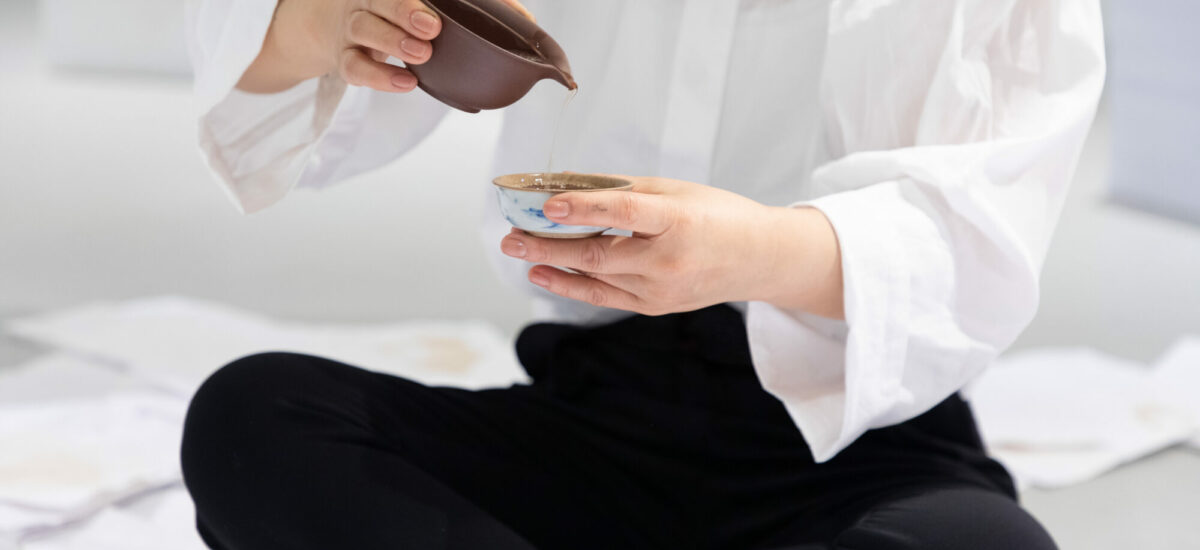 About the exhibition
Pouring Tea Until It Is All Evaporated by Jingwei Bu, is the third stage of her on-going project of Material Habitats. Bu's performances respond to the materiality of everyday objects and materials that represent both her own cultural heritage and shared experience. The act of pouring tea is extracted from the Buddhist Chan philosophy teaching that is about letting go of one's obstinate intention.
Pouring Tea Until It Is All Evaporated
This is an audio description for Jingwei Bu's exhibition, Pouring Tea Until it is All Evaporated, presented by Nexus Arts Gallery on Kaurna Country, Adelaide, South Australia. The exhibition is available to experience in person from the 28th of July until the 31st of August 2022.
Bu has been selected as a finalist in three SALA Festival award categories for this exhibition, which is the third stage of Bu's ongoing project, Material Habitats. The exhibition also incorporates performances which respond to the materiality of everyday objects and materials that represent both Bu's own cultural heritage and shared experience. The act of pouring tea reflects the Buddhist Chan philosophy teaching, to let go of one's obstinate intention.
This exhibition is in the Nexus Arts Gallery, which is a white rectangular room around 4m wide and 6m long, with a thick white column in the centre. An audio track of layered voices plays throughout the exhibition.
Stationed around the gallery are nine neat stacks of A4 plain white paper. The stacks are of varying heights, from around 30cm high to around 1.5m high, with many small ceramic cups resting on top.
During Bu's performances, she pours tea from one vessel to another, and encourages the audience to do the same.
The first couple of paper stacks as you enter the gallery are around 70cm tall. One has a small white rough-hewn ceramic cup on it, and the top few papers have splattered tea stains. The second has a neat A4 spread of tea leaves, around 1cm thick, sitting in a block on top of the stack. There are also some tea stains spilling down the side of the stack.
On the left side of the gallery are four stacks – two taller, two shorter. They are each topped by different ceramic cups, and splattered with tea stains.
To the right at the back of the gallery are the other three stacks, including the tallest one, around 1.5m high. The tallest one has nothing on top but a large brown tea stain. The other two have small cups and a smattering of tea stains.
This has been an audio description by Meg Riley for the Nexus Arts Gallery show, Pouring Tea Until it is All Evaporated, by Jingwei Bu. More information on this and other events and exhibitions can be found on the Nexus Arts website, nexusarts.org.au.
Catalogue essay
Pouring Tea Until It Is All Evaporated is the cumulative efforts of artist, Jingwei Bu, and a myriad of guests to her studio—a productive and meditative space for both art-making, collaboration and ceremony. The evidence of her three-month residency surrounds the gallery in several forms—sculpture, soundscapes and performance enshrining the gallery with stories and experiences shared between strangers and new friends.
Central to the exhibition and to the heart of Jingwei's intuitive practice is a simple deed—an open invitation, an action, a cup of tea.
Through a generous and intimate moment with the artist, the act of sharing tea presents a journey through Jingwei's experiments showcasing a range of art-making practises and its relational processes. The different stages of tea production—the selection, brewing, steeping, its presentation and performativity take on alchemic form. The result is a humbling, hospitable experience where guests are invited to take part in a contemporary interpretation of the utmost precision, steeped in history and tradition.
Here, generosity and performativity are at the fore recalibrating the triad of 'artist—work of art—audience' into a participant-led series of experiences. For Jingwei the methodical process of a repetitious action echoes the meditative state of Chan Buddhism—centralising one's attention to process and in turn finding inner peace. The outcome has been transformative for the artist, encouraging openness and acceptance to guide the development of her work and, in turn, her final installation at Nexus Arts Gallery, Tartanya-Adelaide.
Utilising every remain from every ceremony over the course of Jingwei's residency, the gallery space is an installation of disassembled elements. The stained paper (used as placemats) from each visitor's time with the artist is stacked, losing its material temporariness, transforming its functionality from ceremonial tool to art-object. Remnants of the tea itself has been compressed to form stable, sculptural forms—a physical amassment of the artist's labour and commitment to process. Imposing itself on surfaces like paper, board, stained cups and stored as a dark pigment, the excess 'material' has been collected; its value recalibrated and open to new interpretation. Through this deconstruction and revaluing of 'objects' and methodology Jingwei can question relational ontologies between custom, cultures and the capabilities of sharing experience and knowledge.
Jingwei's project sits alongside an increasing wave of practices that formalise themselves less within the paradigms of 'producing artworks' but situate its aim in fostering connectivity and acts of hospitality between the artist and their audience. The piece is enduring in nature, from the functionality of performing the ceremony repetitively, step-by-step, whilst engaging with each guest in English (Jingwei's second language) for an extended period of time, to collecting and analysing the 'debris' left behind from each encounter. Moreover, this space has been an opportunity for learning—guests have brought materials from First Nations culture, ceramic cups have been exchanged for future ceremonies and variations of tea from around the world has been consumed. Through a process of data-collection and self-archiving Jingwei has 'stored' this knowledge both physically and metaphorically. As Jerry Saltz once said "art-making has the capacity to simultaneously alter and explore consciousness—it is about knowing, learning, unlearning, initiating long-term artistic dialogues and making connections".
Jingwei's residency and exhibition revolves around personal and shared communal traditions which fundamentally focus on bringing people together incorporating diverse cultural spaces, practices, and temporalities. It challenges and expands the social dimension of art, inviting people from all walks of life to inhabit the special and personal spaces that she has constructed and to communally engage in shared rituals and actions.
Rayleen Forester
July, 2022
Meet the artists & curators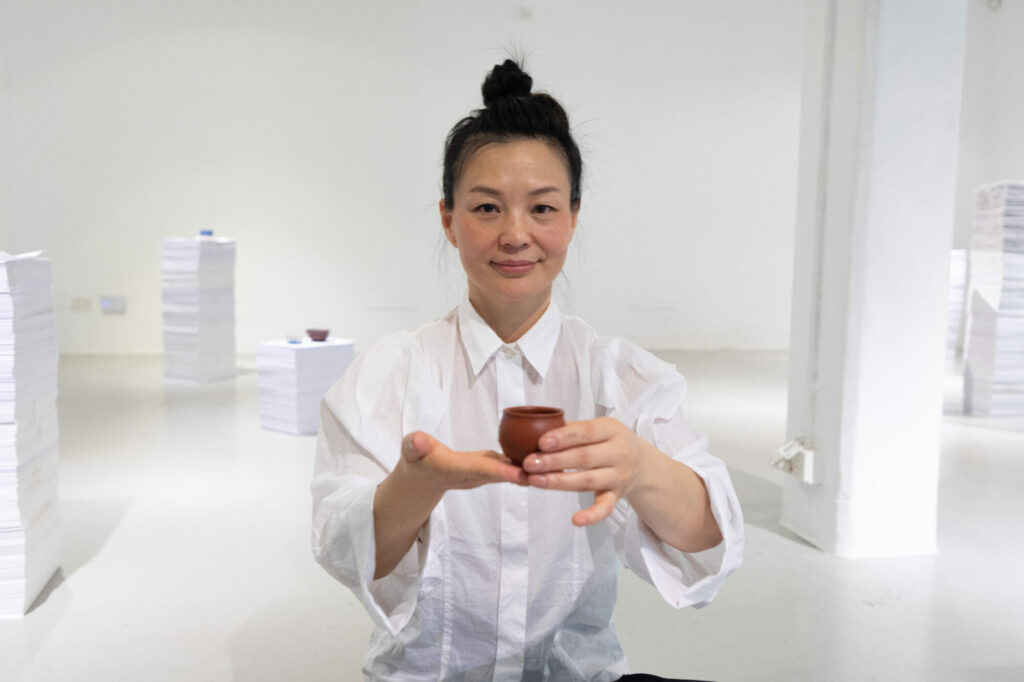 Jingwei Bu is a multidisciplinary and performance artist. She first trained in Chinese traditional technique of charcoal powder portrait drawing. She later studied at a contemporary atelier in Germany. Bu was awarded James Martin Award for a high-achieving Bachelor of Visual Art graduate with BVA from Adelaide Central School of Art in 2021. Her works explore the notion of time that reveal the philosophy of life, memory and culture identity.
Bu has exhibited in China, Germany and Adelaide, including Collective Haunt Inc, FELTspace, the Mill Adelaide, the Main Gallery and art residency at Nexus Art.