Venue hire
Interested in hosting your event with us?
Nexus Arts Venue is available to hire for a wide range and style of events. From album launches and touring acts, to celebrations and events, we offer a space that is flexible, affordable, and inviting. We are passionate about supporting culturally diverse and local artists and producers, and we invite you to contact us to discuss what we can offer.
Nexus Arts Venue also lends itself to creative corporate events that will be sure to please the most discerning of tastes.
A flexible space, Nexus Arts Venue suits 30 to 200 people. With a beer garden available for hire, we can accommodate preshow functions and small intimate gatherings. We produce some of the best live sound in Adelaide, and we can audio and video record your gigs upon request.
Nexus Arts prides itself on supporting and collaborating with culturally diverse artists and artists and producers that dream big! As well as collaboration, we pride ourselves on artist support clear communications that help support up-and-coming musicians and producers in their endeavours to put together the highest quality of performance that they can.
We offer guidance and collaboration for those who would like to utilise the Nexus Arts Venue. We pride ourselves on our ability to communicate and support artists and producers to create their best work.
Nexus Arts Venue fosters creativity and connection between artists and audiences. We believe in the impact of the arts on community and society, and we strive to support arts practice broadly and meaningfully.
We help create memorable moments for both artists and audiences.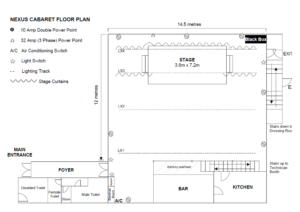 Visual
1 x Vivitek D966HD DLP HD 1080p 4200 Lumens 10000:1 Contrast Projector Draper Luma2 150"
1 x Diagonal projection screen 2.95M x 2.21M. 4:3 format
1 x Cyclorama Curtain: 8m x 4m drop (by request only)
Stage
16 x 2m x 1m staging units (8m x 4m total stage footprint)
21mm structural ply deck with black paint finish
Power
5 x 32 A outlets (4 in control room)48 x numbered 10A patch
points in grid
4 x 10A double GPOs at floor level 1 x 3-phase power outlet
Lighting
1 x LSC Mantra Lite Lighting Console
1 x Chauvet Dmx Splitter
12 x Chauvet Slimpar Quad12
1 x Central patch bay w/test outlet Jands quadpack 4 channel dimmer (2400W)
12 x 300w Par 56
1 x 650 w Selecon Fresnel/barn doors
2 x 650w Acclaim Fresnel/barn doors
1 x 500w Selecon mini Fresnel
Audio
1 x Allen & Heath QU24 Digital Mixing Console
6 x RCF HDL20a Array Speaker Boxes
2 x RCF SUB8004a Single 18" Powered Subwoofer
1 x Maximum AH106-50 24x4x50m Multicore
6 x RCF Art Series 310-A (foldback)
2 x Mackie SRM 450 (Drum fill / side fill if req)
2 x KV2 Audio KX1.2 Subwoofers (Drum fill / side fill if req)
1 x Sony CD Player with remote
1 x 2013 Ipad 2
1 x 2013 Macbook Pro
6 x Shure SM57
5 x Shure SM58
3 x Shure PG series wireless
1 x Shure Beta 52a
2 x Shure BG 4.1 Condenser
3 x Rode M1 Dynamic
6 x Rode M3 Condenser
9 x Behringer Ultra DI
1 x passive DOD 265 DIs
15 x ( 11 x boom 4 x tall) Microphone Stands
8 x (Boom) Short Microphone Stands
2 x black music stand
3 x Guitar stands
Nexus Arts Venue is wheelchair accessible via a ramp from The Lion Arts Centre courtyard.
Specifications
Main door width: 1.641m
Middle door width: 1.625m
Toilets
There are male and female bathrooms inside the building. They are in the foyer.
There is a standalone gender-neutral bathroom. It is to the right of the main entrance to the venue. The bathroom is locked. Front of House staff members will be happy to unlock it for you. The bathroom does not meet current accessibility standards.
Doorway width: 0.793m
Door type: heavy push door opening inwards.
Dimensions: 1.770m x 2.455m
There are two handrails and a low freestanding sink.
We are sorry, but there is no accessible toilet on site.
Stage access
There are 3 steps leading up to the stage. There is a wheelchair platform lift. The platform-lift is operated by a Nexus Arts Venue technician.
Platform lift dimensions:  786mm width x 1.460 length
Greenroom
The greenroom is located on the lower ground level of the building. To access the greenroom there is a set of 17 steps. There is no lift between floors. A curtain rail in the venue allows for the option of a temporary constructed greenroom side of stage, which is concealed from audience view. Bathroom access will still require exiting the venue behind the audience.
There is also an exterior route to the greenroom. Please don't hesitate to contact us to see if this is an option that might work for you.
There is a gender-neutral toilet in the greenroom.
Technical Booth
There is a staircase of 14 stairs to access the technical booth. Hirers rarely require access to this space.
Seating
Nexus Arts Venue does not have fixed seating. This allows for multiple configurations to suit different performance styles. Positioning of wheelchair spaces and priority seating can be configured and designed according to the hirer's preference. Accessible seating can be reserved at the request of patrons. All the seats in the venue are cushioned.