Exhibition
Find That Pace
Shirley Jianzhen Wu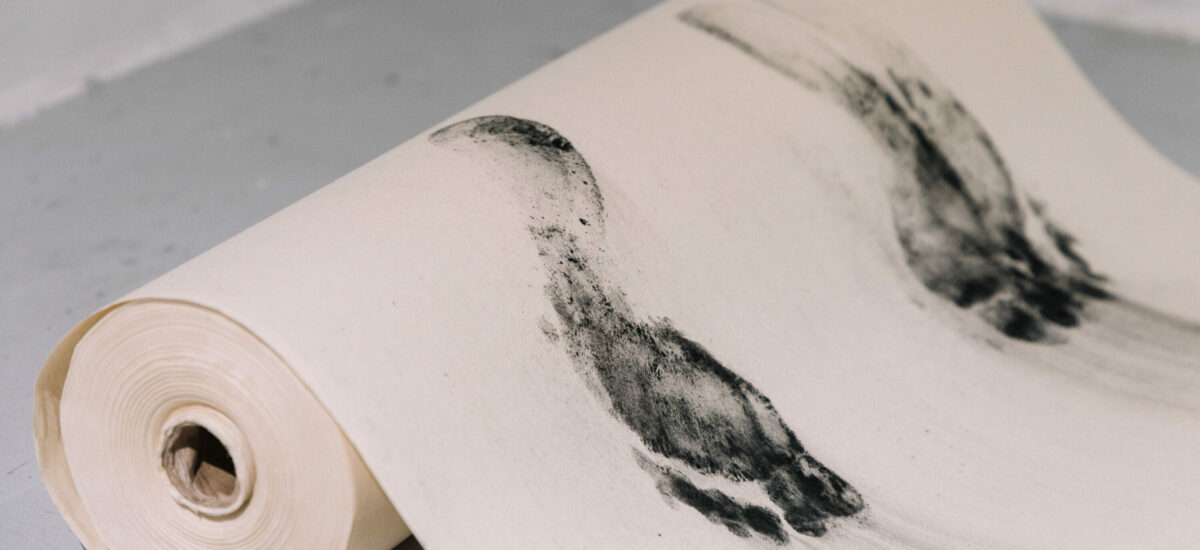 About the exhibition
Find That Pace embraces the contradictions of place for migrant belonging. The gallery presentation by Shirley Jianzhen Wu is the outcome of a meditative embodied practice of walking in loops around the Nexus Arts courtyard. Drawing on Buddhist ritual, Wu's body is as a tool for healing through mindfulness, connection, and self-regulation.
The exhibition offers an insight into the vulnerability of finding ways to visually communicate studio process. The gallery presentation includes a series of workshops, live performances, and a body of artefacts that hold traces of performance in this place.
Explore the exhibition
Artwork

Chewing gum melting under sun

Artist

Shirley Jianzhen Wu

Year

2023

Medium

disposable hooded coveralls and borosilicate glass

Size

dimensions variable

Artwork

Empty plastic packaging

Artist

Shirley Jianzhen Wu

Year

2023

Medium

cotton t-shirts and pants, detritus from Nexus Arts courtyard, borosilicate glass

Size

dimensions variable

Artwork

Cigarette buds and bird poo

Artist

Shirley Jianzhen Wu

Year

2023

Medium

cotton pants and socks, detritus from Nexus Arts courtyard, borosilicate glass

Size

dimensions variable

Artwork

Moss between pavers

Artist

Shirley Jianzhen Wu

Year

2023

Medium

rice paper, charcoal power, borosilicate glass

Size

720 x 60 cm

Artwork

A drop of hot sweat falling through my thigh

Artist

Shirley Jianzhen Wu

Year

2023

Medium

cotton pants and shirts, detritus from Nexus Arts courtyard, borosilicate glass

Size

dimensions variable
Catalogue essay
Body, Mind, and Place: The Performance Ritual of Shirley Jianzhēn Wu
Eleen Deprez
For the past three months, Shirley Jianzhēn Wu, an emerging artist who has expanded her practice from aromatherapy to glasswork and now performance and installation, has embarked on a journey around the courtyard of Nexus Arts. Taking the form of a ritualised walking practice, Wu circled the accessibility ramp around the courtyard again and again. In a rhythmic dance between body, mind, and place we are invited to form – ourselves – a deeper connection to the self and to our environment.
In crisp white garments: trousers, ankle socks, a shirt, and white cotton gloves, Wu exudes an air of professionalism and reverence. Occasionally she zips up in a disposable white overall, the ones a painter decorator might wear, or those worn in healthcare and COVID-testing facilities. After one step forward, Wu extends her arms up to the sky, hands meeting at the fingertips and lowering in front of the chest, a well-familiar stance of prayer or concentration. Her eyes closed, she then folds at the hips, lowering and crawling down onto her hands in an extended plank position. Finally, her body rests down onto the pavers, feet relaxing, her breath blowing away the small pieces of debris and dust wedged in-between the pavement joints. Wu rests but a moment, before rising up again, repeating the pattern of movement, like a rising and falling wave. From a certain viewpoint, the ramp appears as a never-ending staircase, with Wu climbing upwards, yet always returning to the same place. I see this impossible movement, reminiscent of the work of M.C. Escher, as a symbol of not only mediative trance-like practice, but also ever occurring thoughts of self-doubt and questioning we have. As we talk afterwards she describes how the slow, measured movement changes her experience of the world around her: the noises of the tram on North Terrace fade away, the world becomes small and the awareness of distance shrinks. As the exertion of the movement builds up, her breath becomes audible across the courtyard, strenuous yet rhythmic and controlled. The repeated inversions of her head, create pressure in her ears, causing sounds to fade as though she is wearing a helmet. When she concludes the ritual, her body is pulsating, sweat dripping, charcoal dust gathered around her nostrils as they flare, sucking air in. Exhausted, both body and mind, she looks overcome as the world rushes back into her. A feeling of happiness, as she describes it, even euphoria: her body belonging to the place she is in and to the mind that inhabits it.
The white clothes, and especially the overalls, serve as not only a uniform for the performance and ritual but also as a record. They have picked up dirt and other debris from the path, sweat has discoloured patches on the arm and back, and the gloves – made to handle fragile works – tore as they rubbed and slid on the rough surface. As Wu sprinkled charcoal on the path, her clothes became a frottage print of both her body and the the surface of the path. The imprint of her body, almost like a X-ray image, and the texture of the path, create a trace or even a Peircean index: physically pointing to and causally connected to the event it represents.
Wu's walking practice is not only a physical exertion but also an expression and exercise of her connection to the environment. It's an invitation for others to connect to their own bodies and to the world around them. The exhibition we see here is a testament to this connection, showcasing the tangible traces of Wu's journey but also evoking a sense of belonging to the place and a deeper understanding of the body. Nexus Arts, the location of Wu's current exhibition and the site of her performance ritual, holds a special significance as it was once home to a Joss house, a place of worship and spiritual significance for the Chinese community. Wu discovered this after having started meandering round the courtyard, trying to find meaning and space for herself in this new space. As she performed, Wu felt herself at once lost and found. Her body being pushed to its limits, her mind emptying and focusing at the same time. The ritualised performance merged parts of her identity that she thought at once divided or incompatible. Reaching down to the floor she speaks of connecting with her Chinese predecessors. The stillness and silence, created in her a sense of peace, a deeper understanding of herself, and a connection between her new and previous home country.
A ritual does not produce tangible results or have a concrete impact on the external world, but it holds a significant personal meaning and carries a sense of fulfilment and contemplation. Wu invites us to slow down, to listen to the rhythm of our bodies, and to connect to our environment. Our relationship with this current place might be fraught with different meanings: displaced, stolen, appropriated, or lost. But in the performative practice of Wu we can experience a celebration of the profound and life-affirming power of ritual, and a reminder of the importance of taking time to connect to ourselves and to the world around us.
Meet the artists & curators
Born in Dongguan, China, Jianzhen Wu (Shirley) is an emerging artist based in Adelaide. Wu completed a Master of Design (Contemporary Art) at the University of South Australia (2019). Previously she studied a Bachelor of Arts in Jewellery & Accessories at Middlesex University, England (2009–2013). Her practice encompasses jewellery and object making, glass sculpture and installation work. Wu utilises lampworking, moulding, casting, metalsmithing and stone carving techniques. Informed by her holistic training in Hong Kong (2015–2016), Wu's creative process is a journey of healing and meditation.
Wu has completed her Graduate in Residence Canberra Glassworks in May 2022 where she was mentored by Peter Minson. She is the recipient of Sauerbier House Artist in Residence (2023), the Brighton Jetty Emerging Artist award (2022) and SALA festival City Rural Emerging artist award (2021). She was a finalist for the Fuse Glass Prize (2022), the MilanoVetro-35, Castello Sforzesco, Milan (2020); Vicki Torr Emerging Artist Prize (2021 & 2020), and the National Emerging Art Glass Prize, Wagga Wagga Art Gallery (2020).